When tasked with the design project to update a clients' home in Northern New Jersey, I was excited to embrace their unique aesthetic blend of traditional, modern, and eclectic.
Prior to the complete transformation, this foyer was a dark, drab and unwelcoming entry into their beautiful home. The flooring was muddy, the color tones were muted and it did not reflect their personalities. It was in desperate need of a complete foyer remodel.
Their gorgeous home deserved a grand entryway that inspired drama and excitement, reflecting the client's aesthetic.
The Black and White Theme
The black and white theme inspired this entrance way and made its home to almost every surface. I took inspiration from a checkerboard patterned flooring, first introduced during the Renaissance period, this classic black and white stone floor pattern defines the main foyer. The smaller front vestibule continues the theme with a unique stone tile from Anne Sacks.
Modern Wallpaper and Red Accents
Schumacher 1989 wallpaper covers the soaring walls which brings a modern and eclectic energy into the space, perfectly contrasting the classic flooring. Throughout, red accents add drama and boldness, as well as highlighting the black and white contrast. The furniture pieces are vintage or part of the client's collection. Newly upholstered with Kravet fabric, they combine the old and the new perfectly.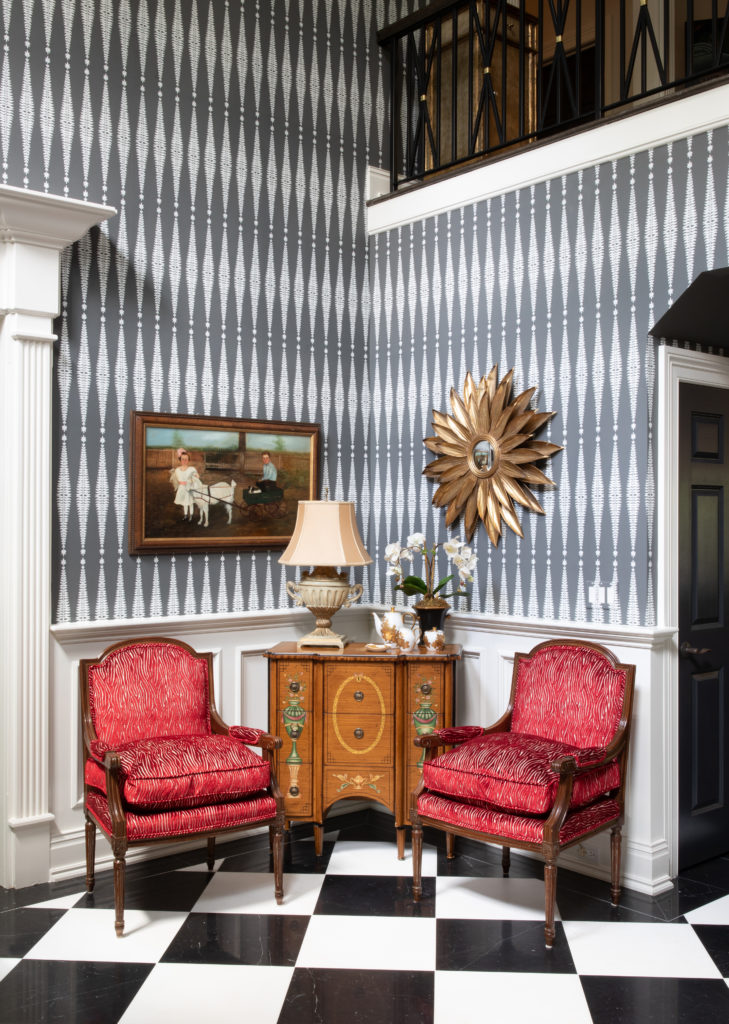 Add Some Sparkle
A local NJ artisan created a custom bannister and railing bringing the whole stairway together and invites the eye upward to encounter a gorgeous gold plated flower chandelier. The new iron-forged gold chandelier from Kings Haven is a welcome update from the original piece. The textured hammered floral design brings in a beautiful natural element to the space. A plethora of natural light streams into the foyer through the skylight; the chandelier elevates the space and add glamours.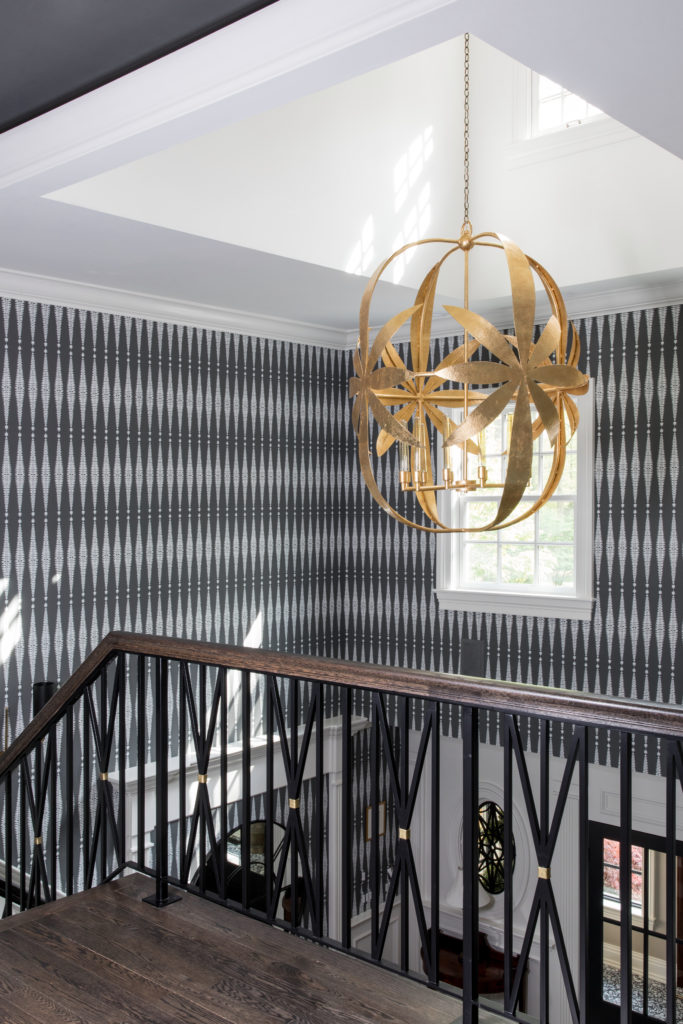 Important Design Tips
A foyer sets the tone for the rest of the home and is the perfect space to bring excitement and positive energy to you and your guests. One of my most important design tips for a foyer remodel is including a seating area or a bench. It creates an inviting atmosphere and is an easy space for guests to take off shoes and jackets. In addition, it allows you to appreciate the beautiful and elegant room of your home while you're taking your shoes off.
Thoughtful touches like candles, flowers, and seasonal decor can really add a personalized touch to the space, and are an easy way to change the ambiance. I love having a full bouquet of flowers in my entryway; it brings the beautiful outdoors inside and is an inviting element of the space.
Always remember…
…a foyer is a chance to make a lasting impression. Mostly, when you think of it more than just a place to drop your stuff, the design opportunities become endless and your imagination can be ignited. Happy designing!
Photography by Raquel Langworthy Photography