Hardware – the jewelry of interior design!
Everyone needs it in their home but with so many options, where do you even begin?! When designing a space, hardware is one of the most important parts of bringing the whole design together. It is extremely important for the functionality of the space. Investing in quality hardware, especially in high use spaces, is a necessity and one you will be thankful for in the long run.
As an interior designer for over 10 years, I am always working with my clients on selecting the correct hardware for their home. There is a lot to think about when you want to choose the right hardware so I'm here to help break it down for you and give you my process for selecting the right hardware for your home.
What are My Options?
First, let's define the different main types of hardware options. We have knobs and pulls.
Knobs generally have a smaller profile, are less expensive, and easier to install since they usually only require one screw.
Pulls are larger, more of a statement and easier to grip but often are more expensive. Pulls are more common to use on larger drawers and cabinets.
When designing a space there are many opportunities for using one type or using a mix of both.
Choosing a Distinctive Style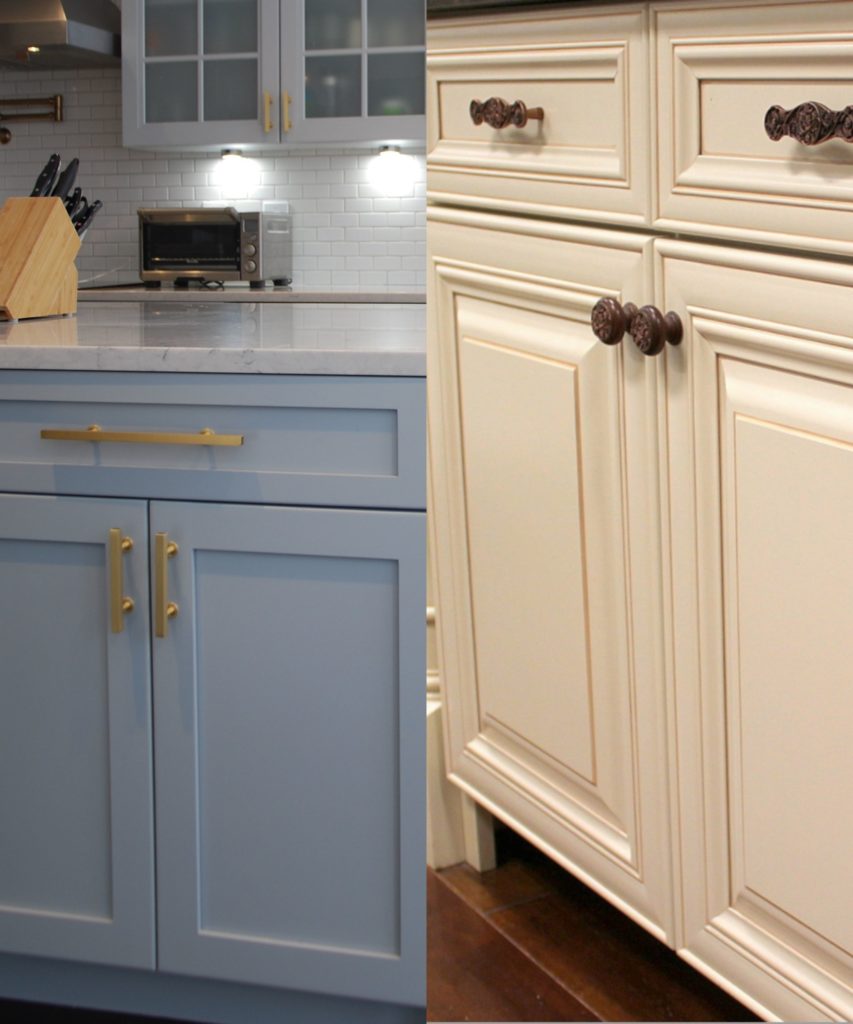 Choosing a style is the next step in deciding which hardware you want to use. There are an endless number of options but specific styles will suit the overall look of your space.
Using hardware that is more ornate with textured detailing fit more traditional or classic spaces while sleek and hardware with clean lines is fit more for a modern or contemporary space.
While there are no definite rules when sticking to a style of hardware, it is helpful to stay consistent across your choices so your space looks cohesive.
Selecting a Hardware Finish
The next major step in choosing your hardware is finish. Finish is the color and texture of your hardware; common finishes include chrome, polished brass, black etc. When choosing the most eye-catching finish for your hardware, interior designers usually opt for a finish that contrasts with the color of the cabinetry.
For example, if you have a darker cabinet color, a lighter hardware finish really pops and highlights the details.
The Final Step is Choosing a Size
Choosing size is the next important step in choosing your hardware.
The general rule of thumb for pulls is the length should be ⅓ of the drawer length. For example, a drawer that is 12" long works well with a pull of 3-4".
It is recommended for knobs that a 1"-1.5" diameter is used. For larger drawers you can even use two knobs for functionality.
There are so many different combinations of sizes and shapes so test out what works for your space!
Hardware is often called the jewelry of a design and it definitely is an important part of a beautiful and cohesive space. I hope these tips serve as a helpful starting point for your own journey to choose the right hardware for your home. It is important to remember to take it one step at a time and think about your space as a whole. If you are unsure of which hardware and style to choose, start with ordering a few pieces and testing them out. Interior design is a slow and steady process which emphasizes beauty and functionality – you are creating your sanctuary. Speaking of sanctuary, check out my previous blog post on how your home affects your health!
Need more help?! That's what I'm here for! As a luxury interior design firm with a full-service experience we specialize in working with our clients to create their dream space. Book a discovery call with us today – let's create beautiful spaces together!