Bathrooms are essential to our daily routine. Whether the bathroom is an ensuite or a first-floor powder, these rooms get a lot of use. Creating a comfortable and inviting room that reflects our style and personality can be expensive, especially if we are talking about a full gut renovation. We are giving you our seven favorite DIY bathroom reno tips to change your bathroom from drab to fab. Whether you are staying in your home for a long time or getting ready to sell, here are a few simple DIY tips.
1. A Fresh Coat of Paint
One of the easiest and most affordable ways to give your bathroom a fresh look is by painting the vanity. A fresh coat of paint can transform an old and outdated vanity into a modern and stylish one. Choose a bold bright color to make a statement, or opt for a calming and serene neutral to make the vanity disappear.
2. New Hardware.
Replace the hardware on your vanity, towel rods and rings, dress hooks, and toilet paper holder. There are hundreds of options in a variety of finishes that can complement the style and color of your space. Matching hardware throughout creates an elevated, cohesive look.
3. Update Light Fixtures
Lighting is essential. For those of us that have a specific face-care routine or do our makeup in the bathroom, quality lighting is key. New light fixtures are the answer. While light fixtures come in a range of prices, there are options for any budget. I recommend using brighter lumens of at least 3000. Go the extra mile by adding a dimmer which can create more ambiance for those spa times..
4. Soft Goods – Linens and Shower Curtain
The shower curtain is an affordable and quick change. It encompasses a large expanse, so can have an instant impact. Complement your new shower curtain, with matching linens and bath mats. Big changes with a reasonable cost.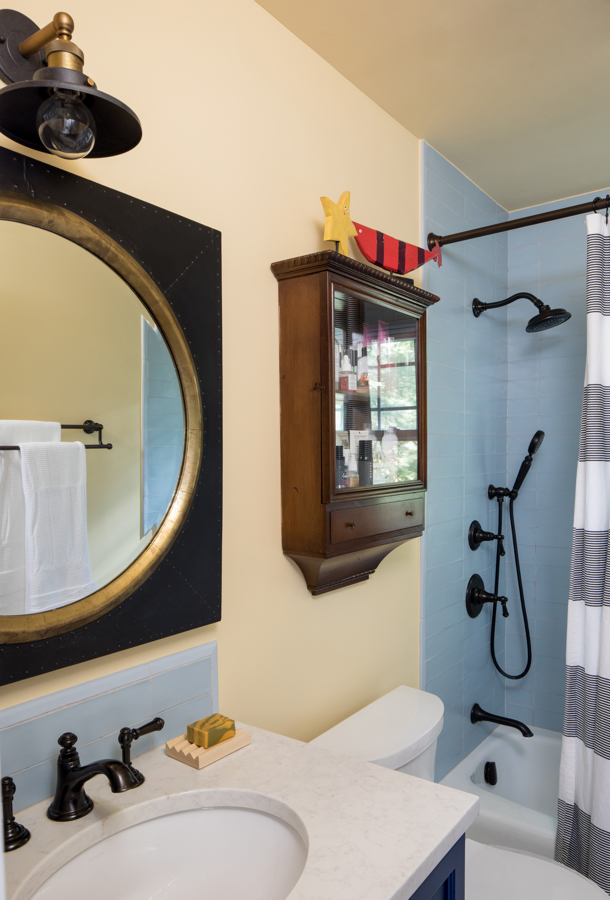 5. Organize
We have lots of little jars and ointments, brushes, and tools that we use for our daily routines. Organizing your makeup and other daily necessities keeps your bathroom neat and attractive. Use jars or pretty containers to store your items and assemble them together on a tray to keep them easily accessible. I love going to thrift and vintage stores to find unique and antique pieces to store my body products. They add another design layer to the space that creates an elevated look. While you're there, look for a stylish tray to display your beautiful new jars on!
6. Paint or Paper Your Bathroom
One of the most dramatic DIY renovation tips is to paint or wallpaper your bathroom. While this is more involved than other upgrades, what a difference this can make. Use eggshell finish on the walls and ceiling to repel condensation. A fresh coat of paint or a fun and funky wallpaper will transform your bathroom. In a smaller space like the bathroom, there is an opportunity to make this room a jewel.
7. Short on Space? Add Storage with a Cabinet Over the Toilet
If you're short on space, consider adding storage with a cabinet over the toilet. This is a great way to store towels, toiletries, and other items that you use regularly. Bathrooms are small, but they require so many daily items; having adequate storage space to hide away 'uglier' items will contribute to your bathroom looking refreshed.
Work within your budget by doing one step at a time. These DIY bathroom upgrade tips can have a big impact on transforming the space and elevating your bathroom. And most importantly, have fun!!