Summer is around the corner, and now is the perfect time to turn your attention outside. Those porches, patios, decks, and outdoor spaces that went unused during winter are ready to be back in action. Treat your outside space like a room in your house. Even though there may not be walls, there are different aspects to consider if you want to create an outdoor oasis. As someone who spends 90% of summer on my front porch, I wanted to share a few of my favorite design elements that help to define my outdoor space.
Style
Outside pieces don't have to be utilitarian. There are plenty of colorful options and patterns that can add your style to your property. Likewise, the developments in exterior materials mean that there are plenty of looks and textures to create an outside home space. From faux rattan to weather-resistant concrete, think of a mix of materials to create a curated space that speaks your style and makes your oasis one of a kind.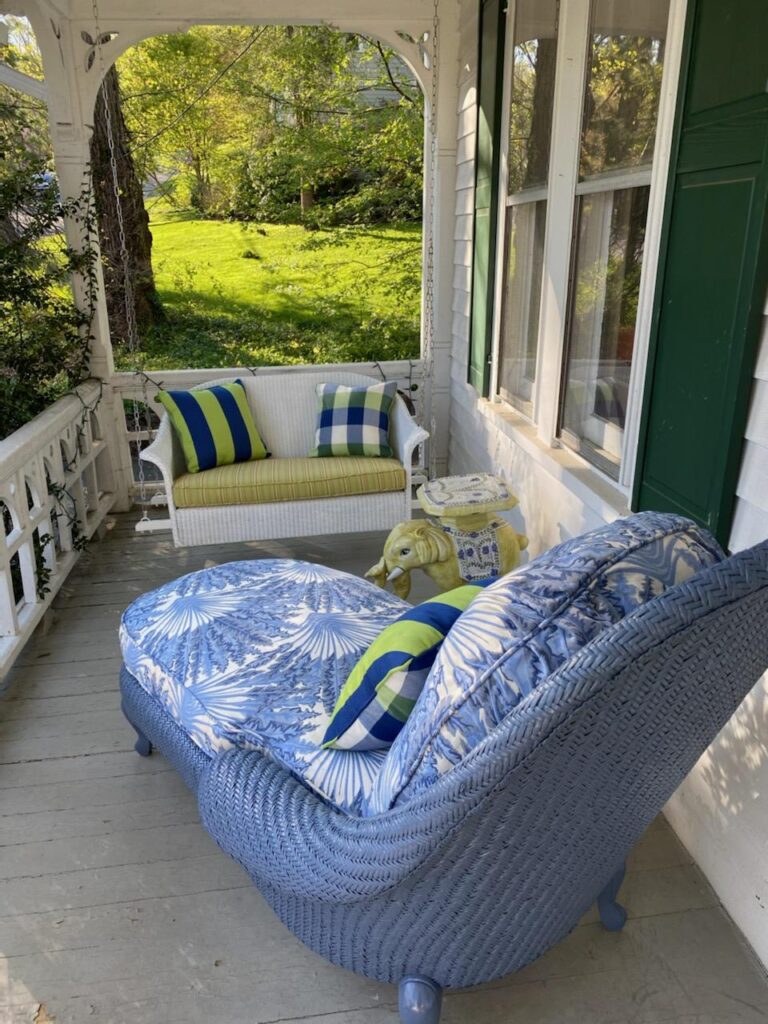 Seating Area
A beautiful but functional seating area is the most essential part of an outdoor space. You need a comfy place to enjoy your property when you're not running around the yard chasing the dog or your kids. I recommend having multiple defined seating areas; one that is a more laid-back lounge area and another that is the outdoor dining area. Whether you have a lot of space or a small yard, this is definitely achievable. For example, a small bistro table with folding chairs will allow for a defined dining area, while a cushioned loveseat will provide a more relaxed and comfy place to enjoy the outdoors. If you have ample outdoor space, add a variety of seating and dining areas.
Carpets
Adding carpets to your outdoor space is a great way to define the area. Even without a porch or patio, a large carpet, or even two, will make a clear definition of your outdoor oasis. The carpet(s) will draw your eyes and create a room. With all the modern outdoor fabrics, you don't have to worry about the carpet being ruined by the elements; the new options are durable, fade-resistant, and meant to last.
Canopy
Aside from porches, most of our outdoor spaces do not naturally have a "ceiling." Consider adding a canopy to elevate your patio or yard area. Not only will it help define the space, but it will also allow you to enjoy the outside when the weather isn't cooperating. Canopies are also a great option if you are looking to add outdoor lighting. If you don't have the space for a large canopy, consider having one or several outdoor umbrellas. They will achieve the same look and feel but require less room.
Lighting
In addition to sunlight, having lighting in your outdoor space will make it more functional, especially in the evenings. One of my clients' most significant drawbacks to investing in their outdoor space is the misconception that it isn't useable once the sun goes down. Adding alternate light sources allows you to transition the space from day to night. For example, consider using string lights to light up the whole area and give a starry night feel. If you want to use your space when it's colder, invest in an outdoor heat lamp; add warmth and light!
Storage
Storage for your outdoor space doesn't have to be an eyesore. For example, when it's raining, it is crucial to have a specific place to store outdoor cushions and other soft furnishings. I would also recommend having a storage area for outdoor toys and games.
The Fun stuff!
Many outdoor-specific elements are fantastic to add to your oasis. Think fire pit or built-in BBQ area or a hammock or swing. If you really want to create an outdoor oasis, add a water element such as a hot tub, pool, or koi pond! When these elements are incorporated intentionally into the space, you will find yourself drawn outside to enjoy your newly expanded home.
Have fun with your outdoor space! This area is meant to be a relaxed, no-fuss entertaining zone. Embrace your style and let your imagination have fun. Summer doesn't last forever. Get started so every hot summer weekend is full of unforgettable outdoor experiences.