We all use the bathroom. Everyday. So why not make it a beautiful and luxurious space?
Even though they are often one of the smallest rooms in the house, they are used every day and need to be extremely functional. Bathroom design can often get left on the back burner in a design project because it can be expensive just to create a functional bathroom space. Over my many years of 'beautifying' my clients' homes, there are several key bathroom upgrades that I always advise my clients to incorporate. Often a bathroom budget can exceed a client's expectations, but with these easy upgrades, you can transform your dated and impractical bathroom into a luxurious oasis that will end up being your favorite room.
Fresh New Linens
The first and easiest way bathroom upgrade is by getting new towels and bath mats that match the color and aesthetic of the bathroom. I recommend using organic cotton or hemp towels; they are vegan, easy to clean, and come in endless colors and patterns. Upgrading your bathroom linens gives your bathroom a luxurious feel and a cohesive look. It can be a relatively inexpensive upgrade to your bathroom. If your bathroom has a shower curtain, a fresh, new curtain can make the space feel updated and modern. For your old towels, keep them for guests or cut them up to use as cleaning rags. You can also donate old towels to your local animal shelter.
Sparkly New Hardware
Another easy upgrade to your bathroom is new hardware. Hardware is the jewelry of interior design so simple changes to your bathroom hardware can take the space to a new level. Stick with one style or mix and match for a unique look. For more tips on how to select the right hardware, check out our previous blog post here.
Window Treatments
One aspect of bathroom updates that can go unnoticed is window treatments. I love including fun and dramatic window treatments in my clients' bathrooms. It is an easy upgrade that can add an intriguing design element to the space. I would recommend using blinds or half-blinds for a bathroom window. Blinds are a great option because they allow for privacy and are easy to use. There are endless options for bathroom window treatments and options for all budgets. You can even create custom window treatments to go with your unique bathroom design.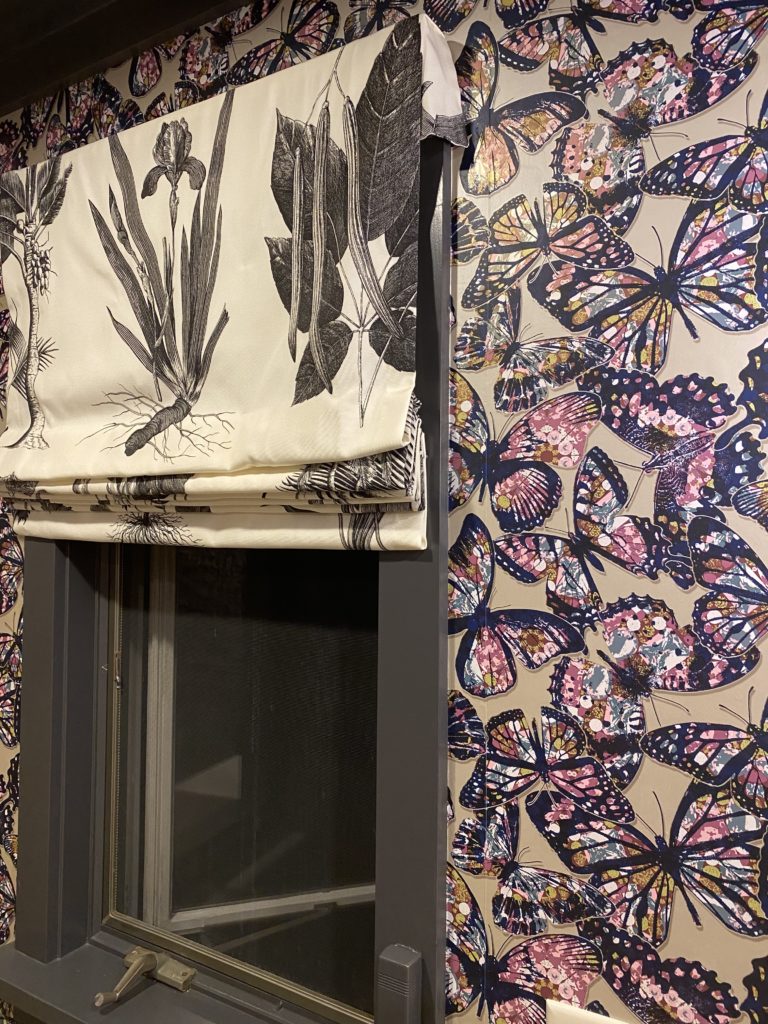 Upgrade at Those Walls
And of course, one of the cheapest and dramatic changes to a bathroom design is paint or wallpaper. Paint is easy to find, apply, and easily fits in a smaller design budget. You can change the whole mood of your bathroom with just a coat of paint. Wallpaper is another fun and exciting upgrade to an outdated bathroom. Because bathrooms are smaller and closed off from the rest of your home, there is an exciting opportunity to use a bold wallpaper design. With the endless wallpaper options available today, there is a unique pattern out there for every aesthetic and budget. I love using wallpaper on bathroom walls; if you're feeling daring you can even wallpaper the ceiling.
Bathroom design doesn't have to break the budget. If you are not changing the tiling, fixtures, or vanity, there are still many ways to upgrade the space and bring a luxurious, spa energy to your bathroom. For a room we use every day, it is important to make it a space we want to spend time in and enjoy.
If you are looking for more inspiration, check out the Walden Interiors Instagram page for gorgeous photos of our design projects. Have a bathroom upgrade we didn't mention here? Tag @WaldenInteriors on social media; we would love to see your beautiful homes.