As a full-time interior designer, I spend most of my time conceptualizing, designing, and furnishing my clients' homes. My own personal house often gets left on the back burner. The process of designing my home is slow paced; one project at a time is usually all I can manage.
By the time all my children had flown the coop, I was looking forward to downsizing. I wanted to find a home that was still spacious for family gatherings but not overwhelming when home alone. It didn't take very long for a house to catch my eye. When a gorgeous historic 1880s Victorian home popped up on the market, I was immediately sold. Filled with charm and unique design elements, like a three-way fireplace, this home was the perfect template for my eclectic, modern aesthetic. I especially love the porch! There was still a lot of serious updating and renovating that needed to happen.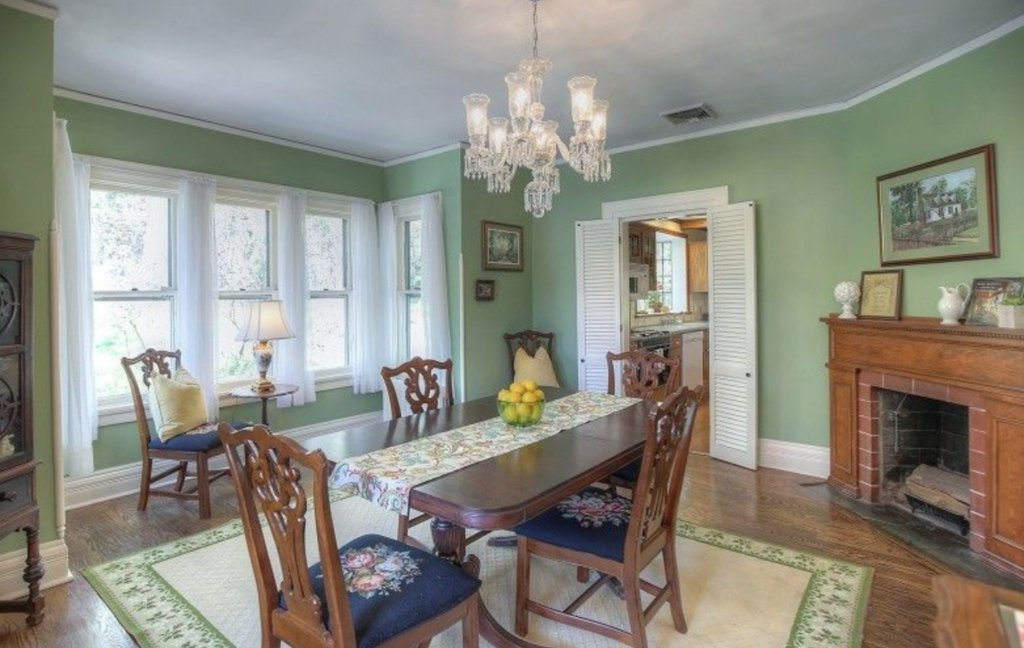 I took my own advice, which I tell all my clients who purchase a new home; take some time and live in the space to figure out what you really want and need. After almost a year of living in the space, it was time to make some changes. While the bones of the home were strong, the layout of the home closed off and not functional. I couldn't wait to insert my modern, eclectic and colorful aesthetic into the home, and bring it back to life.
THE ECLECTIC LIVING ROOM TRANSFORMATION
Color and pattern were my first inspiration for updating my living room. Using fresh fabrics and patterns, my existing furniture was reimagined and updated. The bright colors added pops of brightness to this moody and warm space. One of the biggest changes was actually switching the living and dining room! With the new layout, the flow of the home made more sense while taking advantage of the windows that look over the porch.
Another change to the space was switching out the original fireplace for a gas fireplace. Although I love wood fires, especially in the winter, a gas fireplace is extremely convenient for when you want a little extra heat. Luckily, I still have a working fireplace in my dining/parlor area for when I want to enjoy a real fire. Electric or gas fireplaces are a great option for homeowners who want the ambiance of a fireplace without the extra work. They are easy to install (with the proper design preparation) and look and feel just like an actual fire. I love using my gas fireplace on those cool nights; it's the perfect place to cozy up with a warm cup of tea and a slice of vegan pie!
I LOVE WALLPAPER!
The most dramatic update to the room was the eye-catching and completely unique wallpaper! The minute I set my eyes on this moody, jungle print, I knew it was going in my living room. Even though the pattern is exciting and dynamic, the simpler color palette doesn't overwhelm the rest of the room. I just love how the bright orange sofa works perfectly with the wallpaper.
A VINTAGE LIVING ROOM FOR THE WIN!
Even though this room is a complete transformation from the original space, most, if not all the furniture is vintage, thrifted or from my own collection. Working with a local New Jersey furniture reupholsterer, the old pieces were updated with vegan fabrics. Part of creating a successful interior design plan is planning furniture design and layout. This thoughtful design planning allowed for me to remain within my budget while preserving the beauty and functionality of my home. Don't be afraid of using vintage or thrifted furniture in your home! It can add a unique design element that adds interest and personality to your space.
A REMINDER ABOUT VEGANISM
One important aspect to note is that while I am a vegan interior designer, I also highly encourage keeping non-vegan pieces that are still functional and beautiful. In this space, I opted to use two wool carpets that I have had for over ten years (since before I transitioned to veganism). Even though they are made from animal products, it is can be more ethically responsible and sustainable to continue using the carpets than throwing them away. Unnecessarily purchasing new products may contribute to landfill waste. I always encourage my clients, vegan or not, to try to use as much of their existing furniture as possible. There are so many creative and unique ways that your old 'stuff' can fit into your newly designed space.
STAY TUNED!
I am absolutely in love with my new eclectic living room. The bright colors mixed with the grays make an interesting dynamic of colors that create a visually appealing space. The accents of blue and green add a color energy to the otherwise very warm space. A living room should be a space where you can relax and enjoy the company of your friends and family. I hope my living room transformation inspires you to take design risks and fully enjoy your home. Stay tuned for the next transformation blog post as we take you through an exclusive look at an interior designer's home!